Proudly made in New Zealand
About us
How the King Came to Rule
It is amazing to look back at photos of the first Donut King store, which opened in Sydney in 1981 and to appreciate the progression from a rudimentary franchise system to a franchise system with over 300 stores throughout New Zealand and Australia, the vast majority of which are owned and operated by franchisees. The sweet simplicity of producing our donuts means that franchise owners are able to focus on their customers and growing their business.
Today Donut King offers its customers both young and young at heart a range of mouth-watering donuts (cake and yeast), espresso coffee, hot and cold beverages, signature Megashakes, soft serve ice cream, breakfast toast and hot dogs – not to mention hot cinnamon donuts cooked to order.
As a business package, Donut King provides all support systems, marketing, operations manuals and training along with ongoing field advice and coaching to assist our franchise owners. Donut King is truly an icon in the retail food market, attracting customers from all ages and walks of life and delighting them with a fun experience and delicious treats and beverages.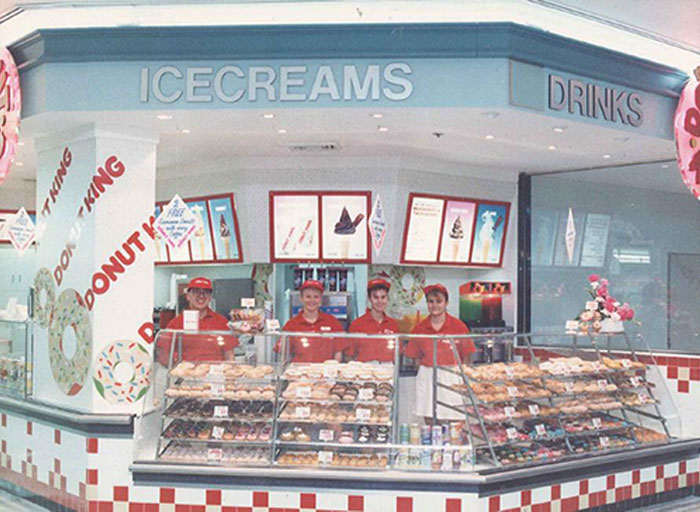 WE'VE GROWN UP WITH YOU
For most Kiwis, at least once in our lives, we have taken a trip to Donut King for a delicious treat. The Donut King store stood out in the food court, like a giant pink beacon, the brightly coloured iced donuts, the squishy, creamy delights of the cream and jam donuts, experiencing the magic of the warm cinnamon donuts being created, bouncing along that mini conveyor belt and landing in a delicious carousel of cinnamon and sugar, to be eaten fresh and hot. We've all been there and have grown up sharing this experience, it's a place for the young and the young at heart.
OUR TASTES HAVE EVOLVED TOO
Since the beginning, almost 3 decades ago, we'd like to think that Donut King has grown up. Tastes change over time and our tastes have changed too. We still love the old favourites, but we've also introduced some changes for the better. Your local Donut King now stocks a wider range of snack options, including smoothies and milkshakes. You'll also find Fruit Freezes and some of the best tasting coffees around. If you're looking for something more substantial, you can't go past our range of hot dogs or our new additions to the menu, our Warm Mini Jam Balls and Churros, fresh out of our donut making robot!
Our menu
Donut King is all about fun and life's little rewards. It's this philosophy that brings our customers back time after time. Our snack-tastic cake donuts are made with a cake mixture and topped in a range of delicious fondants. Then we finish the job with an array of sprinkles,100s and 1000s and even a chocolate or novelty topper! It's small in size, but great for that cheeky little indulgent treat.
Our classic yeast donuts come in a range of shapes and are an absolute winner. They are also decorated with our very own Donut King fondant, sprinkles and novelties. Our tasty hot dog range starts with our classic Regular Dog through to Hot Dogs with delicious extras, like caramelised onion, tasty bacon and shredded cheese. Take your taste buds back in time with our traditional mouth watering soft serves, available in a classic, crunchy cone or a sundae with a burst of flavour. The perfect way to chill out! For our coffee loving customers, Royal Bean is a unique combination of beans sourced from international locations and roasted to perfection to make Royal Bean a rich, smooth and desirable cup of coffee. Fruit Freeze is available in fruiti-licious flavours – Mango, Strawberry and more for everyone to enjoy.
Promise to our Customers
Our stores are designed to grab your attention with bold design elements and the use of our iconic bright vibrant pink. The branding is playful and energetic and expressed in everything we do. Donut King is passionate about two things; Donuts and having fun. Come and see why so many New Zealanders love Donut King!
At Donut King we decorate our donuts and make our hot dogs fresh daily ensuring quality, delicious food for our customers. Donut King operates more than 300 stores across New Zealand and Australia, employing over 4,600 staff and serving 30 million donuts every year. We are still growing so more people can enjoy the Donut King experience.
Careers
Donut King is looking for people who love donuts and enjoy having fun!
We're always on the lookout for the 'right' person to join our team. We want to know that you love donuts as much as we do, believe in treating people well, you'll need to be sweet, vibrant, energetic and obsessed with providing the best donuts, hot dogs and drinks to our donut loving friends.
How many Donut King Stores are there?
There are over 300 stores in New Zealand, Australia and China. For your nearest store, please visit our
store locator page.
How can I find out where the nearest Donut King store is located?
How can I get a job at Donut King?
As each Donut King store is individually owned and operated by Franchisees, please send your resume and application directly to your closest store. They have their own selection criteria for positions vacant. Stores often advertise in local newspapers, online and at their own store.
What is the history of Donut King?
Donut King started life in 1981 as a small family operation in Sydney. The Donut King business system was established in Australia in 1989 and has been operating as a franchise system since 1991.
How do I go about getting sponsorship / donations for my club / school or association?
Should you wish to seek support for your club, school or association, please contact your local store, through the store locator. Many franchisees choose to sponsor and support activities and groups in their local area.
How do I find out about owning a Donut King store?
Donut King stores are franchised throughout New Zealand and we have many different options available to help you gather more information about owning a Donut King store. Simply browse our
franchise page
and then contact
craigwatson@donutking.co.nz
.
What is the total cost of establishing a Donut King outlet?
The total cost of establishing a new store varies from $230,000 to $407,000 + GST depending on the location and fit-out. Accurate estimates will be established and provided to you prior to you having to sign any binding Agreement. The total cost will include all equipment, the entire store fit-out, your initial franchise fee, your training fee, your opening stock, franchisor legal fees, design and approval fees, council/other authorities costs, initial working capital, and initial promotional campaign costs.
I have allergies. Can I find out what ingredients are used in your doughnuts?
Donut King strives to achieve the highest quality in cleanliness and food safety. Unfortunately due to the nature of the Donut King preparation and serving areas we cannot guarantee our products to be free from food allergens. Our products may contain Cereals containing gluten and their products namely wheat, rye, barley, oats and their hybridised strains, crustacean, fish & shellfish and derivatives, dairy and dairy derivatives (including lactose), egg and egg derivatives, honey and bee products (including royal jelly), peanuts and peanut derivatives, sesame and sesame derivatives, soy and soy derivatives, tree nuts and tree nut derivatives, seeds including cotton, poppy, sunflower and safflower and sulphates – added (>10mg/kg).